Group BLACKPINK set another milestone in K-Pop history with 'BOOMBAYAH'. They became the first-ever group to hold two MVs with over 800M views on YouTube, setting another 'first-ever' record in K-Pop history.
On February 24 at 9:04 AM, BLACKPINK's MV for 'BOOMBAYAH' surpassed 800M views on YouTube. To celebrate the new record, YG Entertainment revealed a celebratory image of BLACKPINK during their music activities at the time of the release of 'BOOMBAYAH', through their official blog.
'BOOMBAYAH' is a song that notified BLACKPINK's debut along with 'WHISTLE'. The fierce drumbeats and unique synth sounds impress the listeners, while the chorus which yells 'oppa' sound catchy. The song became a hot topic at the time of BLACKPINK's debut and is still consistently loved by the fans, proving the group's global popularity.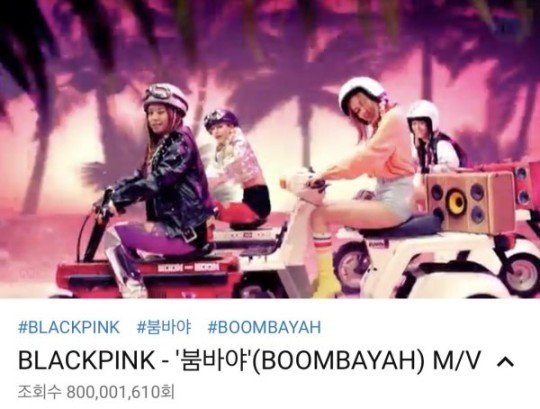 With their new record, BLACKPINK became the first-ever K-Pop group to hold 2 MVs with over 800M views. BLACKPINK has previously reached 1 billion views with their MV for 'DDU-DU DDU-DU', which became the K-Pop group MV with the first and most number of views. 
Furthermore, their MVs for 'KILL THIS LOVE' and 'AS IF IT'S YOUR LAST' have surpassed 700M views as well and are about to reach 800M views soon. The group also has a total of 18 videos with over 100M views including their 8 MVs released since debut in addition to dance practice videos and music broadcast performances.
BLACKPINK is proving their unrivaled presence as global artists by setting the first and best records on YouTube at a fast pace. They became the first-ever K-Pop girl group to surpass 10 million YouTube subscribers, allowing them to be listed on the 'Diamond Creator Awards'. BLACKPINK's YouTube channel currently has 33.3 million subscribers, which is the highest number among all channels of Korea.
BLACKPINK became a world class girl group by successfully completing their world tour consisted of 32 concerts held in a total of 23 cities in 4 continents, which was the largest K-Pop girl group tour in history and allowed BLACKPINK to rise as a world-class girl group. Their recent dome tour in Japan, which was a continuation of their latest world tour, gathered an audience of 205 thousand while tickets for all 4 concerts were sold out, proving their heated local popularity.
After successfully completing their dome tour in Japan, BLACKPINK is now focusing on preparing for their upcoming album
READ MORE : BLACKPINK JENNIE Wins 200 million Spotify Streaming for the First Women's Solo in Korea