(PRESSREELS) J-Hope of the group BTS made a bracelet for his fans, making headlines as it became a real-time trend on Twitter in 64 countries around the world.
J-Hope hosted a live broadcast of Naver V Live on June 24.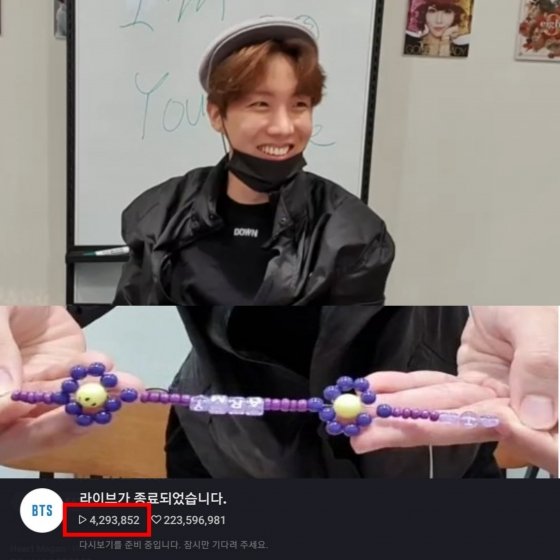 J-Hope made seven bracelets for BTS members on May 14 and June 11, while the show showcased the process of making bracelets for ARMY (BTS fan club).
On the same day, J-Hope said, "I didn't expect to broadcast the bracelet-making theme three times. I came here to keep my promise to make something for ARMY. I was proud and happy to present the bracelets I made on the last broadcast to the members. I think it's a good thing to give someone a gift with all your heart," he said.
As it is a bracelet made for fans, J-Hope actively collected opinions through comments, and as a result, a purple bracelet, a color symbolizing BTS, was created.
J-hope said, "I've learned some skills to show you the advanced side. We're always trying to show our fans how much we've improved. He then made a wide-open flower-shaped bracelet using bead materials and was cheered by fans.
As it was a broadcast for fans, there was a heated response from all over the world. Keywords "hobi (Nickname)" and "hoseok" topped Twitter's real-time trend in 31 countries, including the United States, Canada, Brazil, Chile, Poland and Switzerland, as well as World Wide.
In addition to Korea, Britain, Germany, France, Russia, Algeria, Lebanon, Saudi Arabia, India, Thailand, Venezuela, and Paraguay have become the center of attention in 64 countries.
In the show, J-Hope's unique wit gave fans great pleasure. When some of the ingredients for the bracelet, which is about to be completed, fell to the floor, they sang the chorus of Jin's solo song "Epiphany" instead of screaming. This made headlines as the title of the song was on Twitter's real-time trend.
During the recording, V made a surprise visit to the live broadcast site and left a message of support to J-Hope, creating a heartwarming scene.
The show was watched by 4.29 million people from all over the world at the same time.
J-hope once again expressed her love for fans by showing off her completed bracelet on Twitter after the show.