V, a member of the group BTS, is drawing attention by certifying a picture of the character "Simpson" drawn by a fan.
V posted a photo on BTS' official Twitter account on the 25th with the message "Army painted me." V is leaning comfortably against the sofa and watching a painting of Simpson's characterization as V.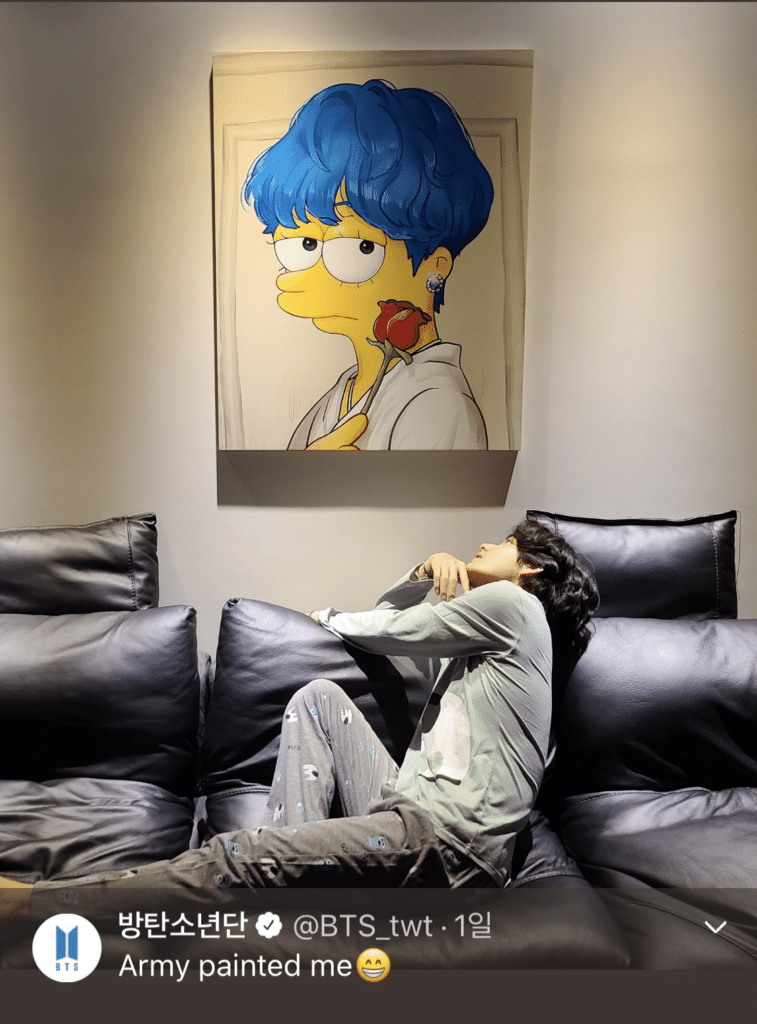 V said in August last year, "Can you draw me as Simpson? I want to frame it," he asked his fans to draw attention.
At that time, it was a huge topic for fans as BTS entered the long-term vacation period, and fans started the 'V Simpson Drawing ARMY drawing contest.'
Many ARMY (BTS fan clubs) showed off their skills as much as professional illustrators.
Fans not only made fan art but also made cartoons and videos and shared them on social media. Not only the fans but also the junior singers who revealed that they were fans of V joined the event, while famous foreign illustrators joined the event.
V posted on BTS' official Twitter account in 2014, "I drew Simpson-type, but it's too hard to draw me with Simpson." After five years, he received a Simpson Taehyung(V's real name) as a gift from fans.
This is not the only thing that created a voluntary culture of fans at V's suggestion.
When V said he was listening to Debussy's "Vergamask" and wanted to listen to classical music played by ARMY, ARMY instantly posted a video of them playing classical music by instrument, and "ARMY's Classic" became popular.