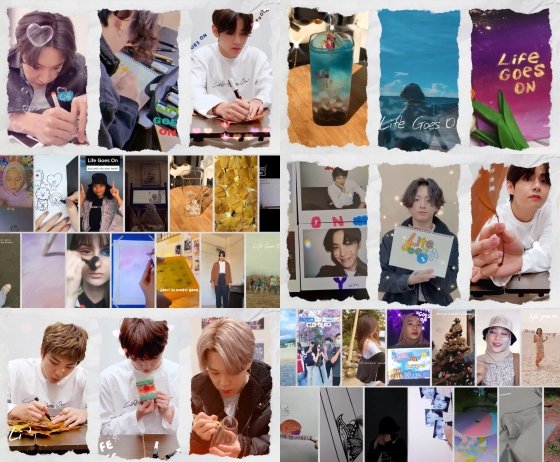 BTS has released a music video for ARMY version of the title track "Life Goes On" from its new album "BE (Deluxe Edition).
BTS posted a new music video on its official YouTube channel BTS on the 31st under the title "Life Goes On (ARMY version)" with fans around the world. The music video was made through the '#LifeGoesOn' challenge, which took place after the release of 'BE' on November 20.
Unlike the usual dance challenge based on choreography, the "#Life Goes On" challenge, which was conducted on TikTok, a global short-form mobile video platform, was more notable as a "creative challenge" that reinterpreted "Life Goes On" in its own creative way.
BTS also participated in the challenge and expressed 'Life Goes On' in its own way by writing and drawing pictures.
The "#LifeGoes On" challenge ran from November 20 to December 5, setting a total of 463,276 participation records amid the keen interest of ARMY around the world. The number of hashtag video views of the challenge reached 930 million in 15 days.
The music video for the "Life Goes On" ARMY version, made with the participation of ARMY around the world, begins with BTS participating in the challenge, followed by ARMY expressing the meaning of the song in various ways. Fans express their affection for BTS through calligraphy, painting, face painting, and daily life. The video, combined with the emotional acoustic guitar sound, touches viewers.
"Life Goes On" is a song about BTS' honest feelings in the Corona 19 situation, and although no one wanted it and faced the unexpected reality, it is gaining sympathy from many by melting the message, "Life continues." Fans also showed the song's message in their own ways through the '#LifeGoes On' challenge. Analysts say that BTS' message of consolation to spread through music peaked through ARMY around the world.
Meanwhile, BTS will meet ARMY around the world at the joint concert "2021 NEW YEAR'S EVE LIVE Presented by Weverse" by Big Hit label artists on the 31st through online live streaming.