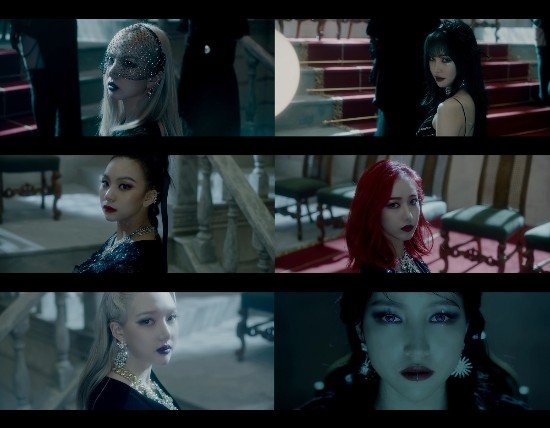 (PRESSREELS) Girl group GFRIEND has released the music video for the title track 'Apple' of its new album.
At 6 p.m. on July 13, GFRIEND presented the music video for the title track "Apple" of its new mini album "Song of the Sirens" on YouTube and its official SNS channel.
The released music video begins with the final scene of the album's first content, "A Tail of the Glass Bed: Butterfly Effect." Standing under an apple tree, the galaxy took a bite of the red apple, smiled, and soon fell down. "At first, I hesitated, but the six members gradually fell into temptation and became witches."
In particular, the unconventional story of girls dressed in pure white enjoying fancy dinners at the temple and sitting on the throne, along with the redness of the transparent glass beads, shows a woman who is honest and confident in her desire, not just shaken by temptation. The fiery apple tree, which appears with mysterious solo dance, further enhances the dramatic effect.
The music video was directed again by Guza following "A Tale of the Glass Bead: Butterfly Effect," capturing GFRIEND's unconventional changes with refined and sensuous visual beauty.
The title track "Apple" is a pop genre song with exquisite blend of vocal chops, reminiscent of Seirren's songs, based on trendy lead sounds with retro. Knowing that there was a price for her choice, the lyrics included the girl's inner conflict with the voice of temptation, and member Eunha participated in writing the lyrics, composing, and Yuju's songwriting. The captivating voice of the six members in a dreamy atmosphere surrounding the entire song adds to the addictive quality.
Meanwhile, GFRIEND will hold a "GFRIEND Showcase ::: Song of the Searsens" on Naver V LIVE and YouTube at 8 p.m. on the same day and unveil its title track "Apple" for the first time.