NEW K.ID, the No.1 TV channel for all K-Pop entertainment. Stream LIVE HERE!
Now available on The Roku Channel, Xumo, VIZIO, THETA.tv, LG Channels, and Samsung TV Plus.
Tune into NEW K.ID to see your favorite idols all day, all week for everything K-POP!
Here are the top 10 weekly idols on the K-pop channel NEW K.ID for the third week of July.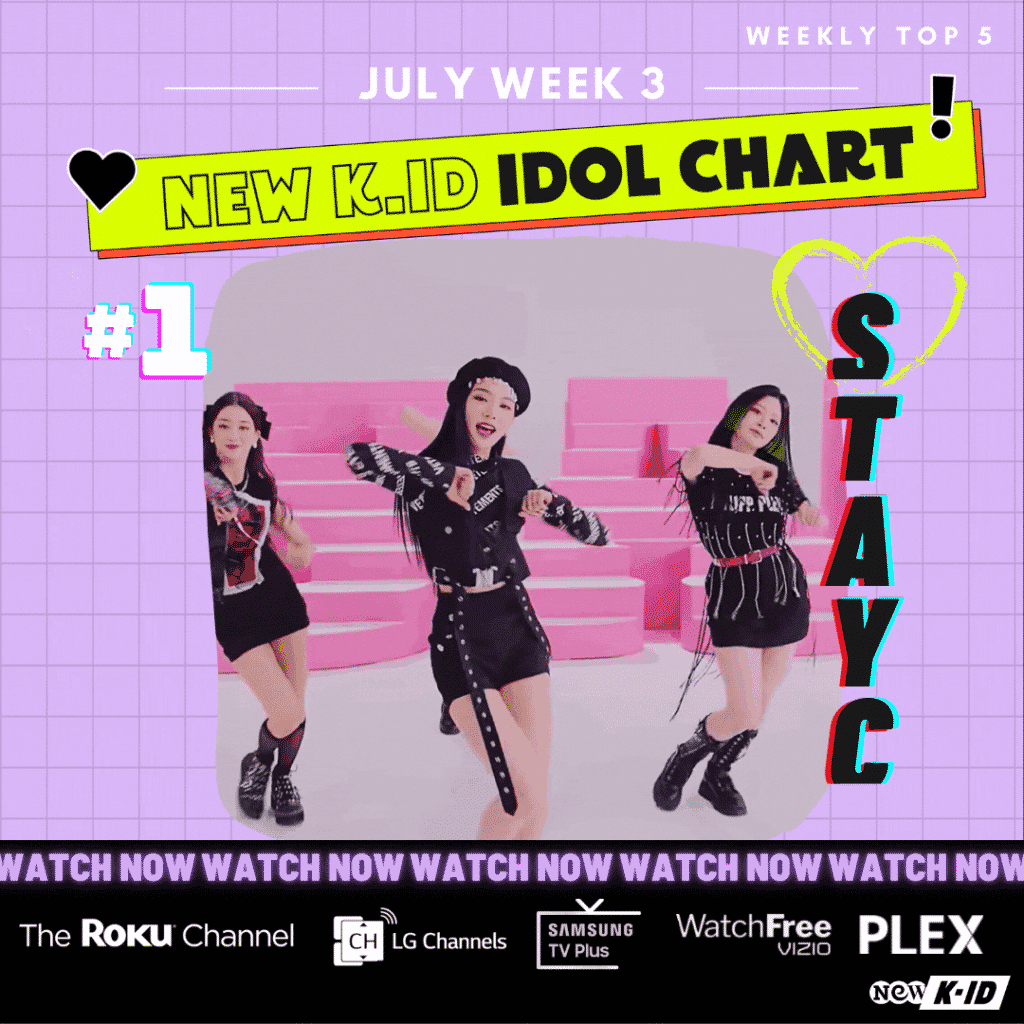 Congratulations to STAYC on taking the first place on NEW K.ID Idol chart this week! STAYC's ISA recently released a dance cover video of EXO's song "Love Shot" on STAYC's official YouTube account. In stylish blue casual suit and no props, ISA delivers a powerful performance with a fresh unique feel, completely different from the STAYC's cute and lovely "Tin fresh" charm.
At #2 is ENHYPHEN. These boys topped Oricon charts in Japan with their debut single in Japan. The boy band debuted in Japan with their single "BORDER: Hakanai" which topped Oricon Weekly Singles Chart on July 19th, selling 200,000 copies.
VERIVERY comes in #3 this week. The band recently welcomed back Minchan, who took a leave of absence last October. Minchan just released a vocal cover of James Arthur's "Say You Don't Let Go" where it shows him in the recording studio and having fun with VERIVERY members.
Next up is ONWE at #4. This talented boy band has begun promotional activities for their song "AuRoRa" which was composed by ONEWE's Kanghyun. The song AuRoRa is a rock ballad describing the brightness an aurora brings to the dark night sky. Following in at #5 is TOMORROW X TOGETHER. The group still makes it the Top 5 in this week's NEW K.ID Idol Ranking. TXT's Yeonjun has been selected as the "Artist of the Month" by "STUDIO CHOOM" for July. He performs Harry Style's "Watermelon Sugar" and a remix of Ed Sheeran, Bruno Mars, and Chris Stapleton's song "BLOW." If you haven't watched TXT on WE K-POP, make sure to stay tuned in on NEW K.ID!
GOT7 comes in at #6. GOT7's Youngjae and LABOUM's Soyeon has released a song for the tVN drama "My Roomate is a Gumiho" OST album. The song "You & I" is featured as the seventh OST song to be released for the drama.
BTOB 4U is at #7, followed by BAE173 at #8 this week. LOONA ranks in at #9. LOONA has recently returned to the Billboard charts in the United States. LOONA's fourth mini-album "[&]" ranked in six Billboard charts on the 17th. The group ranked 14th on Billboard's World Album Chart, 59th on the Top Current Album Sales Chart, and 24th on the HEATSEEKERS Album Chart. The title track "Paint The Town" also ranked 17th on Billboard's World Digital Song Sales Chart.
And finally, at the #10 spot this week is TREASURE. The boys have launched their own merchandise under the "Treat World" concept similar to an amusement park full of fun and entertainment. Merchandise includes a "PLAY BOOK" containing member's cute and funny photos and exclusive interviews.
NEW K.ID is your only K-POP TV channel! Watch and interact with your favorite artists with various giveaways now! Enjoy NEW K.ID- completely free- now on THE ROKU CHANNEL (#564), Samsung TV Plus (#1434), XUMO (#511), LG Smart TVs, VIZIO Free Channels (#942), on all connected devices. Tune in now!