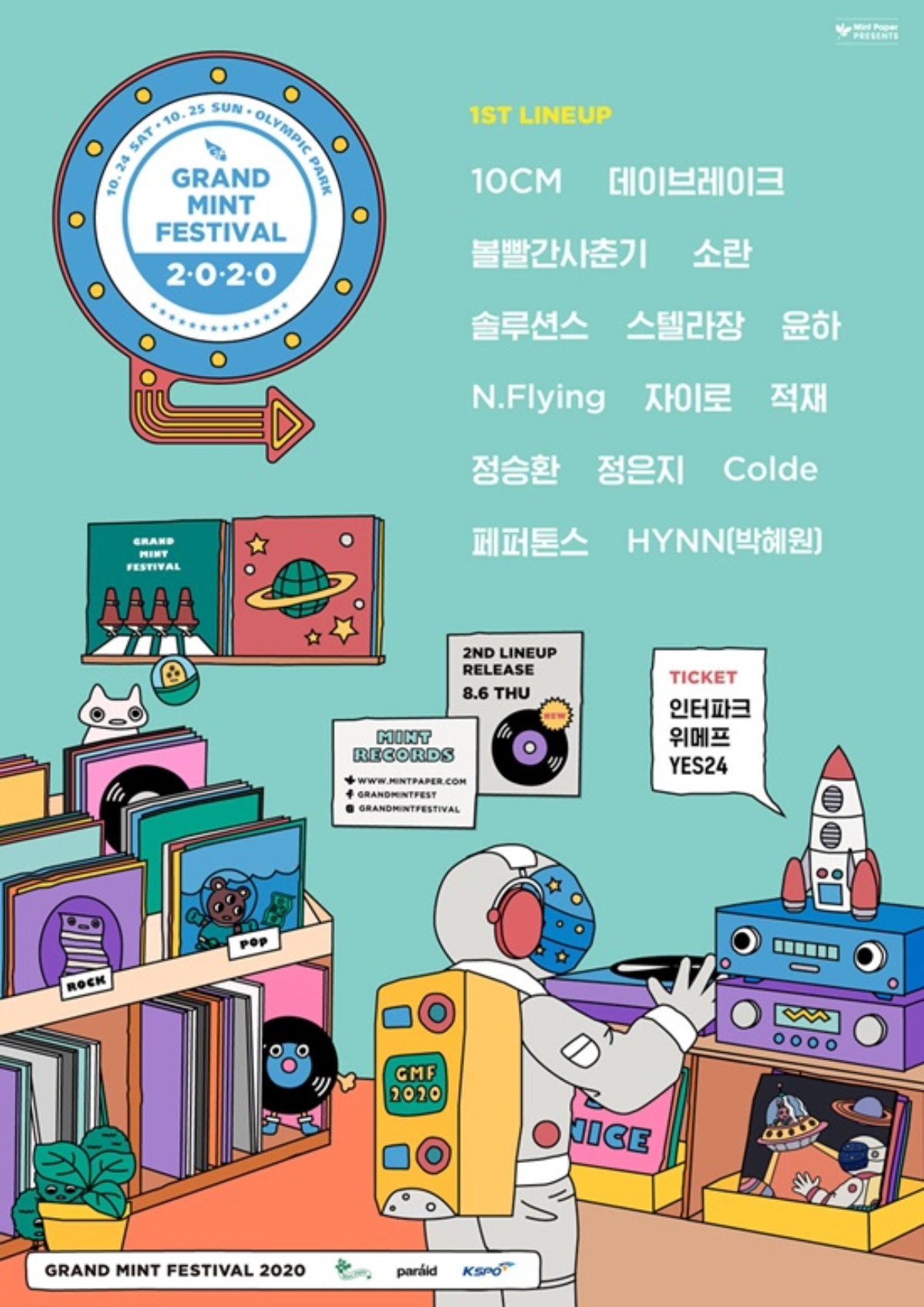 (PRESSREELS) According to the first lineup of "Grand Mint Festival 2020" released on July 17, a total of 15 artists (teams) including 10CM, Daybreak, BOL4, Soran, Solutions, Stella Jang, Younha, N.Flying, Gyro, Jukjae, Jeong Seung-hwan, Jeong Eun Ji, Colde, Peppertones, and HYNN will be named Grand Mint Festival 1.
First of all, Peppertones is the only record of all 14 appearances in a single festival through his appearance at the Grand Mint Festival 2020. On top of that, GMF's favorite artists such as 10CM, Soran, Daybreak, and Solutions, as well as regular artists who have given constant trust to GMF, were also listed.
In addition, Jeong Eun Ji, who had her first official festival stage last year, will perform at the Grand Mint Festival for the second consecutive year. Attention is focusing on what kind of performance Jeong Eun Ji will perform this year, along with her latest new song, which was released last year amid favorable reviews from many audiences and staff.
Likewise, Younha, who performed a limited edition stage with a special setlist that was not usually played well last year, and BOL4, who reigns as the strongest source of music, have also confirmed their appearance at the Grand Mint Festival 2020.
Like Jeong Seung-hwan, who is considered one of the best ballads of the time and has recently been high in stock prices, and Jukjae, which many musicians cite as one of the best guitarists present, also appears in the first lineup. The news that the two musicians, who have recently been playing touching music through JTBC's "Begin Again," will be on stage at the "Grand Mint Festival 2020" side by side, has raised expectations among many audiences. In addition, Stella, who has recently performed as a solo artist and a project group named Chees Beach, is also included in the lineup.
Popular musicians in various genres and areas, including N.Flying, a fast-growing band with high-quality singing and performance, Gyro, a guitarist and singer-songwriter with colorful techniques, Colde, a producer and vocalist who has been receiving constant love calls from many musicians recently due to her sensuous voice and production, and HYNN, one of the most notable vocalists now, will also be available at the Grand Mint Festival 2020.
A program named "The Moment of You," which will be launched this year by the Grand Mint Festival 2020, is also drawing attention. "The Moment of You" is a program that invites artists who have not been able to meet at music festivals for various reasons to the GMF stage. We look forward to the participation of various artists who have dreamed of appearing in large music festivals, focusing on their own special moments regardless of genre, inclination, and career.
Prior to the announcement of the first lineup of the "Grand Mint Festival 2020," Mint Paper, the organizer of the "Grand Mint Festival 2020," released a statement on quarantine guidelines, operational changes and audience limits for the "Festival that Can Co-exist in the COVID19 Era."
Considering the current situation in which both medium and large-sized performances and festivals are being canceled, "Grand Mint Festival 2020" promised to make utmost efforts for "festival where performances and safety can coexist," including limiting the number of spectators to less than 50% of the previous year, strengthening on-site quarantine and admission procedures, and abolishing standing zones.
The "Grand Mint Festival 2020," which took the first step on the march by announcing its first lineup, will open its official ticket on July 20. The second lineup will be unveiled on August 6.