(PRESSREELS) The advertisement video of the group BTS V is drawing attention by mentioning it on the official SNS account of the World Music Awards.
On July 16, the official Twitter account of the World Music Awards, called the Billboard of Europe, mentioned a recently released video of V's advertisement with the words "#BTS" #V Filming for #Chilsungcider.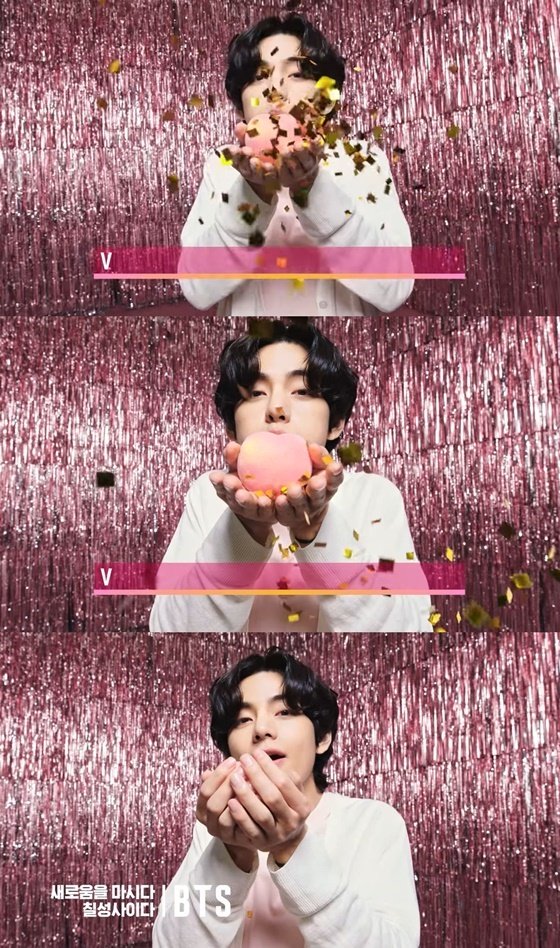 The video was posted on his Twitter account by a fan who advertised the making and original of "Chilsung Cider X BTS," which Lotte Chilsung posted on its official YouTube channel. This behind-the-scenes video, which was the first of the BTS members to be featured in an individual commercial, shows V, dressed in a purple T-shirt, putting his hands together to wrap a peach model.
When V, who boasts a gorgeous yet neat beauty with slightly wavy bangs, gathered his hands together to blow "Whoo," a peach model was highlighted. At the end of the video, his charming low-pitched narration and natural smile combined to show his full appearance as a perfect advertising model.
The staff at the advertisement filming site were also amazed at the lovely V's appearance, cheering "Cool!" and clapping seemed to come out of itself.
A fan posted a GIF (Moving Image) file of a scene where a lovely smiling V and a peach were captured with a message saying, "I was so fascinated by the peach fairy," and once again, the World Music Awards responded with peach and purple heart emoticons to entertain fans.

Meanwhile, BTS, to which V belongs, has been actively active through Japanese media since the release of its fourth full-length Japanese album "MAP OF THE SOUL:7~THE JOURNEY~" on July 15.